Our nursery routines are designed to help children feel secure and to foster independence and self-care skills.  Every day experiences such as meal times and personal care routines are opportunities for children to develop independence and self-care skills as well as helping children to learn about healthy choices and lifestyles.
Key persons create relaxed, unhurried personal care routines for their children which are respectful and supportive and promote the bond between themselves and the little one in their care.
Activities and free play
We encourage a balance of child directed learning through free play and exploration alongside more structured adult led activities. For babies, we provide short adult led sessions spread out across their day.  The length of these sessions increases steadily through the toddler room to the main room and longer sessions are provided to support help our older children be ready for the transition to school.
Our adult-led activities and experiences are designed to inspire thinking, curious minds; to introduce new vocabulary, concepts and ideas; and to challenge children to explore all aspects of learning.
During child directed free play, children can follow what sparks their curiosity and imaginations.  The nursery also uses all play and activities to promote co-operation and collaboration and to support children to develop friendships with their peers.
Forest School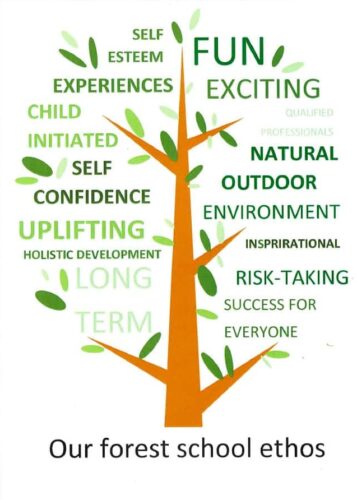 We are in the process of introducing simple forest school activities into the nursery sessions. Forest school enables children to access nature and the environment and explore taking risks while being safe and supported.